When I pictured my final year of University, I can tell you right now that this is not at all what I pictured. Not for one second. But then I guess none of us saw this coming. Almost three months ago now, I joined millions of students across the world in beginning my final semester of university online. Roughly two weeks ago, I finished that semester. Transitioning from a classroom in which everything I needed was open and available to me, to Zoom classes, with connection issues, and a virtual raising of hands, was a shock to the system for sure.
A few weeks ago, I handed in my final submission for university, the three years of my life, my whole university experience - over with the push of a button, and to say it felt odd was an understatement. As millions of students I am sure can relate, those final moments were definitely bittersweet, happy to be done, and finished with your degree, however equally upset that you had to do it alone, and can no longer celebrate your achievement as you usually would.
The world is in the midst of a global pandemic, a battle of unprecedented proportions, a crisis with both devastating economic and social consequences, and our priorities have shifted, and rightly so. Knowing all of this, I feel a little guilty with the feelings of loss I have from my university experience ending this way. You see, since I first started university, I have been dreaming of and aiming towards that end, that graduation, the celebration I would have surrounded by all of my loved ones. In fact, even a mere few months ago I was planning meals celebrations with those around me, and in this current state - none of that can come to fruition anytime soon. However, I am one of those fortunate enough to have had my graduation ceremony postponed until February 2021, others have had theirs cancelled indefinitely.
What should be a time of relief, excitement and exciting job offers, has somehow moulded into fear for the vast majority of us in this position, as the future really is uncertain. Will these be any jobs available after this? Am I graduating into a huge recession? I think the real answer to all of the questions and concerns that a lot of people have in my position is that nobody really knows. We don't really know what will happen, just as we didn't know that this would happen in the first place. However what we can be sure of (in my opinion) is that we faced adversity and possibly the biggest disruption to our education that we could have, and we got through it. Not many people in the population today can say that they graduated in the midst of a global pandemic, but we did, possibly against all odds. I also think that it is okay to feel a little heartbroken about the loss of your experience, but it is important to know that it was for all of the best reasons.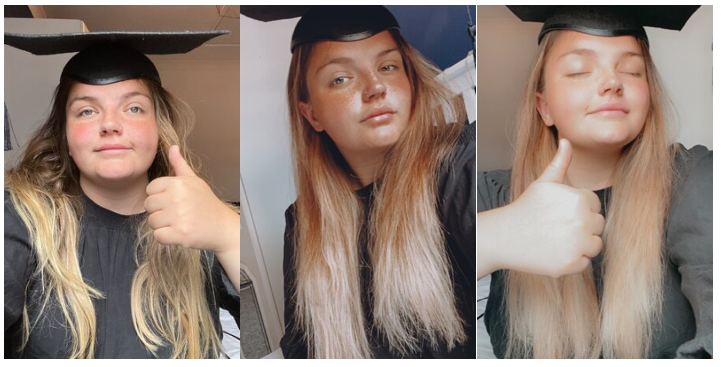 Ps. Yes I did order myself a horrifically bad £3.99 graduation cap online to make myself feel better.
20/10 no regrets.